Torn anterior cruciate ligament in dog and cat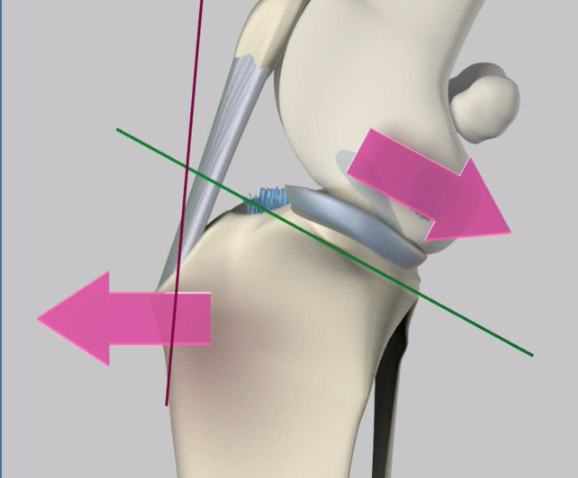 The tear of the anterior cruciate ligament normally occurs abruptly during the physical stress of an animal. The animal feels an acute pain and avoids straining the corresponding limb. The pain persists during the first weeks and is acute, which is why the patient avoids unnecessary movements and shows a weakness to put physical strain on the limb.
Recovery is achieved through surgery, which should be performed immediately to prevent the formation of arthritis and meniscus ruptures due to knee joint instability.
The diagnosis is made by an orthopedic and radiological examination with specific images, so that the necessary measurements for the operation can be taken.
Many techniques have been tried in the past, which have been developed over the years and provide excellent results. The most modern methods performed in our clinic are mainly TPLO (Tibial Plateau Leveling Osteotomy) and TTA (Tibial Tuberosity Advancement).
It is also possible to perform a less expensive operation and repair the cruciate ligament, whereby a special joint fixation material is applied to the joint. Of course, this technique cannot be compared to TPLO and TTA and their comparable advantages (less pain, minimal post-arthritis, shorter recovery, etc.), but it remains a reliable solution when finances do not permit more.
The first phase of recovery lasts two months, during which the patient must be restricted in his or her movement. Walks without a leash, climbing stairs, running, and generally intensive activities must be avoided. After the first two months, the activity may be gradually increased until the animal returns to its previous state.
In our clinic you can also pay for the procedure with a credit card with interest-free installments.