RCVS member / MsC Veterinary Surgery-Orthopaedics
Kostas Antonopoulos was born in Athens in 1978. He grew up in Kalamata, the town he loves since he was little and that he wanted to return to after having finished his studies of multiple years.
In 2006 he graduated from the Veterinary School of the Aristoteles University of Thessaloniki. As a student he worked in a large private clinic in Thessaloniki. After having finished his studies he stayed at the university and further trained at the Department of Surgery where he graduated with "Excellent".
He then went abroad to study further and on a much higher level in the field of surgery, getting accepted at the Academic Clinic of Vienna, Austria.
In 2009 he and his wife decided to set up their own private veterinary clinic in his beloved town of Kalamata. Two years later the two of them set up a second clinic in the Mani peninsula.
Kostas' passion has always been and will remain soft tissue and orthopedic surgery. He has taken part in many seminars held abroad as well as in Greece, always aiming to keep evolving in this field. While training further he has worked with clinics in England and Italy. He is a member of the Royal College of Veterinary Surgeons as well as of the Greek Veterinary Orthopedic Society and the international organization AOVET (osteosynthesis association).
In 2017 Kostas was accepted at the Luxemburg University for the development of his Master studies in the field of surgery and especially orthopedic surgery, frequently visiting seminars in university clinics around Europe. In 2019 he received the title "Certificate in Advanced Veterinary Practice (Orthopedics)" which is considered the highest distinction in veterinary medicine in Europe.
Sports and in particular swimming is Kostas' hobby, so is cinema and reading about his professional subject. But his family always comes first: his wonderful wife Lena and their little son Georgios.
Kostas is also the happy "dad" of Lazaros (Shih Tzu dog), Melek and Virginia (two previously stray cats), and of Blanco, a white canary he saved from the street.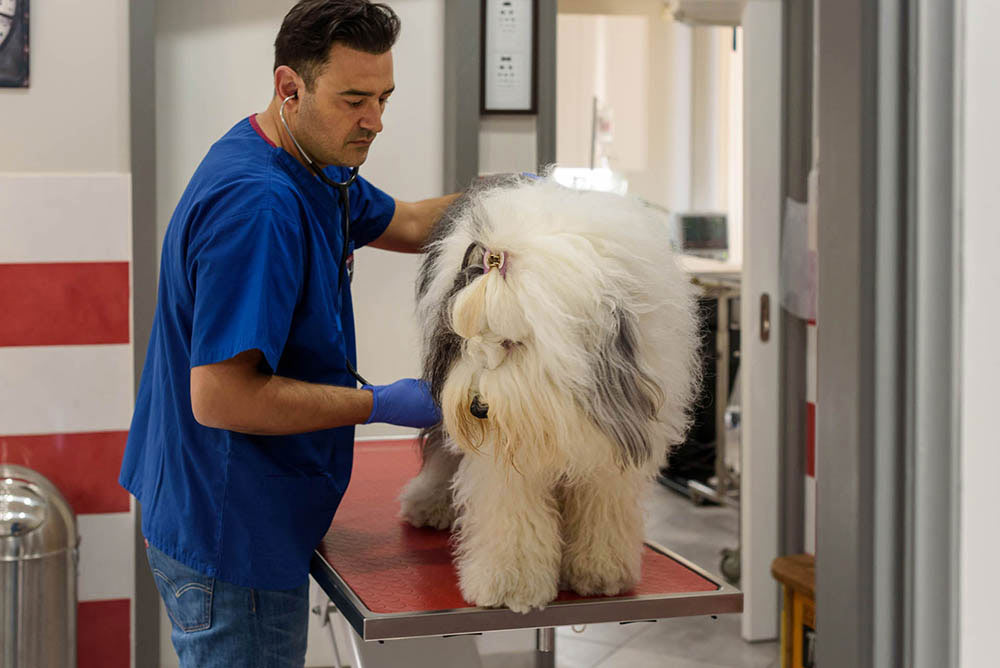 2005-2007 He worked in a private clinic in Thessaloniki as an intern
2006 He graduate from Aristotle University of Thessaloniki
2006-2007 He worked as a Doctor in 24h small animal private clinic in Thessaloniki
2007-2008 He did his postgraduate in Surgery ( orthopaedic, soft tissue ) & Obstetrics in Aristotle University of Thessaloniki with record "EXCELLENT"
2008 Participated in soft tissue surgery course in the Academic clinic of Austria in Vienna
2008 He did a postgraduate in orthopaedics & soft tissue surgery in Vienna's Veterinary University
2009 Started his own small animal clinic in Kalamata
2010 Speaker in International Small Animal Veterinary conference in Greece (Athens)
2011 Germany-Dusseldorf Tight Rope surgery techique for Cranial Cruciate ligament rupture
2012 Orthopaedic seminar (wet lab) & Minimal invasive plate osteosynthesis 2013 Hands on seminar Thoracic-Abdominal Radiology University of Veterinary Medicine of Thessaloniki
2012 Started a second small animal practice in Stoupa( Mani/East Messinia)
2013 Hands on seminar Veterinary abdominal ultrasound Thessaloniki
2013 Wet lab (hands on) EXTERNAL FIXATION FOR RECONSTRUCTION OF DIFFICULTIES & COMPLICATE FRACTURES
2013 Wet lab (hands on) TTA METHOD FOR RECONSTRUCTION OF CRUCIATE LIGAMENT RUPTURE
2014 Seminar on ''Laboratory findings & diagnostics'' (Clinical chemistry,Microbiology,Hematology)
2014 Orthopaedic seminar (wet lab) on Joint surgery & Front limb surgery(Sofia, Bulgaria)
2015 Orthopaedic seminar (wet lab) Pelvic osteotomies & Patellar luxation (corrective osteotomies)
2015 (RCVS member) Official member of Royal College of Veterinary Surgeons UK
2015 Enrollment for ''Certificate in Small Animal Surgery" , Univiversity of Liverpool
2015 Seminar on Thoracic & Abdominal radiography and ultrasound
2016 AOVET advance course "Orthopaedic injuries and other problems in growing animals", DAVOS, Switcherland
2017 Enrollment for "Certificate in Small Animal Orthopaedic Surgery" ESAVS, University of Luxemburg
2017 Invited speaker "Cruciate ligament rupture", first Hellenic Veterinary Orthopaedic Association, Athens
2017 ESAVS advance soft tissue surgery course " Head and Neck surgery" , Vienna, Austria
2018 ESAVS advance orthopaedic course,Vienna, Austria
2018 ESAVS advance orthopaedic course Cremona,Italy
2018 ECVS (European College Veterinary Surgeons) Athens, Greece
MEMBER OF:
RCVS (ROYAL COLLEGE OF VETERINARY SURGEONS)
E.K.E. (HELLENIC VETERINARY ASSOCIATION)
E.K.E.O.T. (HELLENIC VETERINARY ORTHOPAEDIC & TRAUMATOLOGY ASSOCIATION)
E.S.V.O.T. (EUROPEAN SOCIETY OF VETERINARY ORTHOPAEDICS)